GOALS OF TEAMBUILDINGS & TRAINVENTS
Your ideas and goals form the basis for tailor-made and effective team building with Conout.
Immediate experience ensures sustainable results.
The actively gathered experiences are firmly anchored in the participants' consciousness.
POSSIBLE TOPICS FOR TAILOR-MADE TEAMBUILDING
Our outdoor events arouse enthusiasm and are unforgettable experiences for the participants. At the same time they enable experience-oriented learning and social competence development with a lasting effect. Team spirit is the focus and forms an emotional foundation for the future through the active experience.
The range of activities is (almost) unlimited. Everything that can be done outside and inside can also be part of a CONOUT event. Here are a few ideas: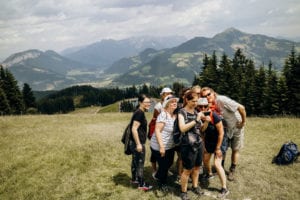 All CONOUT team building and training events also have an educational touch, as real team building always serves to improve the team structure. Unlike large event providers, our activities or events are not meant to be competitions against each other.
So if you are looking for a team structure and tailor-made team building or training events then you have found the right team.
Play – Fun – Challenge: These are the elements of a fine team building. Raft building, archery etc. are well-known methods. But what is the goal? For our CONOUT teambuilding projects we like to ask the question: What is different afterwards?
Anyone who can formulate a concrete goal will get the right event. The individual activities can be used in different ways. Depending on the task, different dynamics arise. Sometimes fun is in the foreground, sometimes getting to know each other, another time communication? Together we can control the dynamics to achieve your goals.
OUR LATEST CONTRIBUTIONS TO THE TOPIC
PLEASE CONTACT US AND ASK FOR INFORMATION WITHOUT OBLIGATION.
WE WILL GLADLY MAKE YOU A TAILOR-MADE OFFER!